There are so many different scents around at this time of year, be them natural smells like my In-Laws log burner, freshly fallen rain or a good hearty pie baking in the oven or ones that we add to the air ourselves. I'm going to make a huge blogger confession now that, although I do like candles, I don't have any that are scented in my room at the moment so I couldn't really say that I have a favourite scent from a candle. What I do think is currently my favourite "winter" scent is the perfume that Lee bought me back in October for my 21st Birthday. Paco Rabanne's Lady Million. Some people may wear this all year round but for me it's definately a more wintery scent, it's heavy and musky and quite woody and I just don't think it would suit me in the summer.
We tend to go out for dinner a lot during the winter, especially as both families have quite a lot of birthdays around this time of year, and time after time this has been, and will be, the fragrance that I reach for. For me, it oozes sexuality and gives me a great boost of confidence when I'm wearing it, and I think that we could all use one more pick me up at this cold and miserable time of year.
So, apologies if I've taken a slightly different slant on this to everyone else, but at the moment my favourite winter scent is definately Paco Rabanne Lady Million Perfume - £35.50 for 30ml.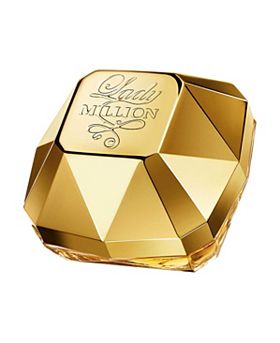 You can also find me at: