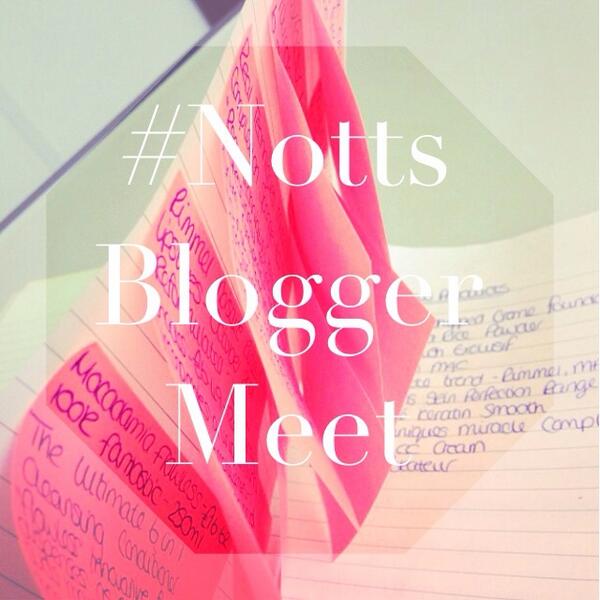 Hello Lovelies,
I thought that it would be nice if I put together a blog post on the #NottsBloggerMeet that Sophie & I are hosting on the 1st March so that you could all get to know one another and swap blogs beforehand so please find below a list of people's names, blogs and their twitter handles!
Becka (me) - Becka's Beauty Blog - @beckashepx
Sophie - Pocokins - @Pocockins
Becki - The Explorer Blog - @theexplorerblog
Becky - The little blog of beauty - @lilblogofbeauty
Louisa - Fashion Fumblings - @fashionfumbling
Kayleigh - KayKayM - Keyleighm_88
Lauren - Painting Nail - @Laurenn_S
Lora - Lora Loves - @loralovesx
Hayley - Strangeness and Charm - @xhjw
Alexandra - Cats and Vodka - @magicst4rs
Ellie - Unique
love Style
- @Ellielouuu
Anna - House of Bargain - @houseofbargain_
Lucy - Lucy Earnshaw - @lucy_earnshaw
Gemma - LookingLovelyyy - @lookinglovelyyy
Leah - Peaches and Smoke - @peachesandsmoke
Charlie - Charlie and the Beauty Factory - @chizzasaur
Charley - Beauty Robot - @charleyc_123
Sally - Rainy Day Daces - @rainydayfaces
Jess - Dungarees and Donuts - @jessiekinsxo
Meimei - meimeisays - @meimeisays
Emma - Not Your Average - @missemmalou_
Rebecca - Cloud Nine Indulgence - @cloud9cupcake
Charlotte - Fierce Fine Fashion - @Triple_F_
Laura - Lrsmth Fashion - @lrsmth_fashion
Amber - Little Things She Loves - @littlethingsAR
Hannah - Dainty and Ivory - @H_m_k
Charlotte - Charlotte Writes Blog - @Hell0imchar
I can't wait to meet you all and have a good old catch up with some of you! If you'd like to be put on the reserve list then please contact me (@beckashepx or comment below) or Sophie (@pocokins) and we'll let you know if a space becomes available!
You can also find me at:
Twitter - Facebook - BlogLovin' - Instagram